Chronic leg pain should never be ignored. Besides limiting quality of life, leg pain may be caused by a serious underlying vascular condition. Our Vascular Surgery team, lead by Dr. Edward Erb, is able to provide leading-edge treatment and technology right here – so there's no need to travel for life-saving care.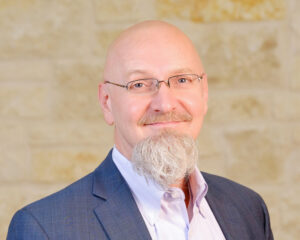 Dr. Edward Erb has been serving the needs of vascular patients since 2001. A trainer of medical students, general surgery residents and Vascular Surgery Fellows, Dr. Erb is experienced in all aspects of vascular diseases and is highly experienced in treatments of the following conditions:
Treatments for:
Varicose veins and spider veins
Deep vein thrombosis (DVT)
Venous ulcer
Carotid artery blockages and stroke prevention
Claudication
Limb-threatening artery blockages
Raynauds
Carotid stenosis
Renal and mesentric artery stenting
Repair of abdominal aortic aneurysms
Extremity (leg) artery bypass
Peripheral arterial disease (PAD)
Hemodialysis Access
Learn more about Dr. Erb here and call 830.258.6236 to schedule your vascular screening.